Are you worried that your employees are not getting enough fuel to keep them energized throughout the day? Do you want to upgrade the office coffee maker so your team can enjoy a hot cup of coffee anytime they need it?
Then this guide is just what you need! You'll find all the information needed to pick the right office coffee maker and get your team energized and motivated.
Coffee is a popular beverage for increasing productivity and providing energy throughout the day. As an employer, providing good quality coffee in the office can have a great effect on your workforce. Not only do employees feel valued, but they also have easy access to coffee no matter their tastes or budget. With that in mind, this guide will help you decide which office coffee maker is best for your employees so that they are kept happy and caffeinated.
First, let's start with the basics. There are a few key features to consider when selecting an office coffee maker: size, price range and brewing capabilities. The size of the brewer should match your office's needs–how many people work there and how much space you have available? Price range is also important; you'll want to make sure you are getting the best value while still investing wisely in equipment that will last long term. Finally, look at what type of brewing capabilities each brewer offers; from traditional drip to specialty espresso machines, there are plenty of options on the market today that cater to all types of drinkers!
Types of Office Coffee Makers
A key factor in helping workers stay productive and energized is making sure they have easy access to a high-quality cup of coffee. Office coffee makers come in all shapes, sizes, and styles to meet the demands of any workplace – from small offices to large corporate complexes. Here are some of the different types of office coffee makers available on the market and their key features:
Automatic Drip Coffee Makers: These are among the most common office coffee makers, especially for smaller businesses. They are user-friendly, relatively inexpensive, and can brew multiple cups at once.
Single Serve Coffee Makers: For those who prefer individual cups of coffee, single serve brewers are an excellent option. They're compact enough to fit in smaller spaces but can still brew an individual cup with ease.
Pod Coffee Machines: These machines are becoming increasingly popular due to their convenience and fast brewing time — all you need is a pod! Make sure you're using a machine that's compatible with your specific pod type before you buy one.
Thermal Carafe Coffee Brewers: If you're looking for something that can make large batches at once (think 15+ cups!), then this is the way to go. It keeps brewed coffee hot for several hours without having to reheat it, making it perfect for all-day meetings or larger events.
Espresso Machines: For those who prefer espresso-based drinks like lattes or cappuccinos, an espresso machine might be just what you need. Since these machines require specialized knowledge and equipment, it's best to leave this one in the hands of professionals when possible!
Single-Cup Coffee Makers
Single-cup coffee makers are quickly emerging as the go-to choice for offices with busy staffs that don't have a lot of time to wait in line. These machines provide individual servings of freshly brewed coffee and tea in addition to a variety of flavor options. Popular brands such as Keurig and Tassimo are known for their ease of use, attractive designs, and fast brewing times.
Whether your staff prefers delicious black coffee or cooling iced tea, there are numerous options available with single-cup systems. They offer an abundance of features including hot water on demand, quick brew times, temperature control, programmable settings, energy saving modes and even direct-to-mug features.
In addition to the convenience they offer, these machines are ideal for households or offices with limited counter space because they take up minimal surface area.
Traditional Drip Coffee Makers
The traditional drip coffee maker is what you're likely used to finding in many home kitchens. This type of brewer heats water and then releases it in small increments into a filter that holds ground coffee beans. Most automatic drip coffee makers consist of a water reservoir, carafe or pour over, basket filter and heating element that intermittently sprays hot water through the grounds. Traditional drip brewers are an economical solution for large offices and staff break rooms where many cups can be brewed at one time without too much fuss. Here are some features to keep in mind when selecting a traditional brewer for your office:
Capacity: Most machines brew up to 12 cups of coffee at once, where one cup is approximately 5 ounces. If you need more than 12 cups at one time, there are larger machines on the market that can handle up to 50+ cups per brew session!

Carafe & Serving Size: Traditional brewers usually come with carafes that hold between 8-10 cups, but they vary significantly depending on the model so be sure to double-check before buying! You can also find larger machines that have multiple carafes if you need more than 10 servings of coffee at once.

Brewing Time & Temperature: When it comes to brewing time, most models take 6-7 minutes for every batch brewed; however this varies slightly depending on the specific machine and amount being brewed as well as the temperature set on it (usually up to 200°F). Of course, if you need faster results there are other options available such as express brewers which have shorter brewing times but higher temperatures (up to 205°F).

Connection & Installation: All models require electrical outlets for power so make sure your office has access to any outlet required before purchasing the machine. Additionally, many models come with special installation kits that make it easier for set up and maintenance — be sure to check what's included when buying your machine!
Factors to Consider When Choosing an Office Coffee Maker
Choosing the right coffee maker for your office goes beyond basic specifications and brands. As you've learned, some coffee makers may fit the size and style of your office, while others may simply underperform or lack features you'd like to have. To make sure that you are investing in the best coffee maker for your needs and budget, there are a few factors to consider when making your decision.
Size: There is no one size that fits all when it comes to choosing an office coffee maker. Consider how much counter space you have available in your break room as well as how many employees or visitors need to be able to access the machine simultaneously and brew their own individual cups.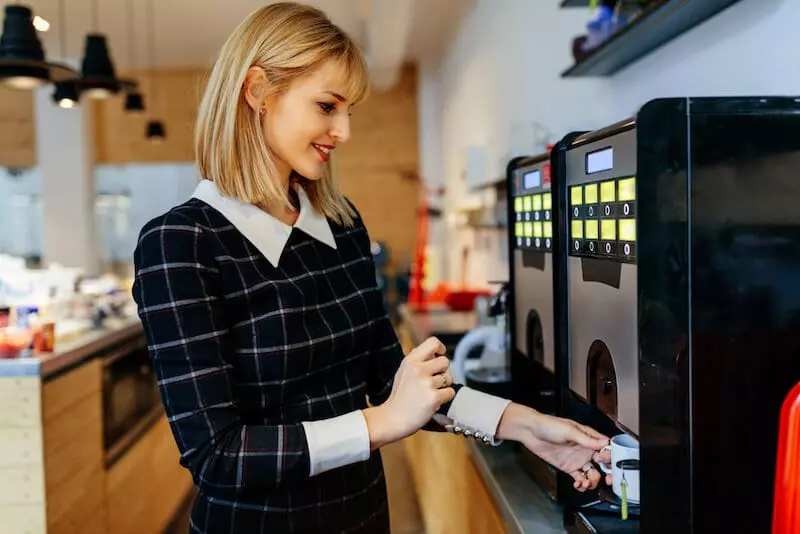 Features: Depending on the type of environment you have, some features such as setting drink sizes, adjustable brew strength (strong/weak), timer start options, hot water intakes for soups or oatmeal packets, noise level and ease of cleaning could be more important than others.
Capacity: Different types of office solutions can accommodate different capacities–amounts of beans stored at once or amounts of cups brewed at a time. Be sure to look at maximum bean capacity per unit and pick one based on how large your refill cycle is expected to be (weekly/monthly). For larger offices where there is an expectation that everyone use the same machine simultaneously throughout a business day (and not just peak caffeinating times) double brewing helps ensure that everyone can get their cup without wasting time waiting for their turn. Double brewing also helps with energy costs– machines only draw power when actively heat up water for brewing!
Number of Employees
When deciding which coffee maker to buy for your office, the number of people it needs to serve is one of the most important factors. The experts at Forbes suggest having one brewer for every 25 employees. Here are some general guidelines on how much coffee you will need for employees in your office:
1-10 Employees
For up to 10 people, a single-serve brewer such as a Keurig is sufficient. A single serving machine has enough brewing options to appeal to everyone's tastes and can make individual beverages quickly and efficiently.
11-25 Employees
For 11-25 people, consider an auto drip machine in order to prepare multiple servings at once. With this kind of machine, you can make either standard black coffee or more specialty drinks like lattes and mochas with special pods or grounds.
26-50 Employees
For 26-50 people, an espresso machine may be best. Not only will it benefit employees who like stronger drinks like lattes and cappuccinos but it gives them more freedom with flavors like vanilla or caramel syrups. Most machines also come with steamers for frothing milk if those are desired drinks as well.
51+ Employees
If you have over 51 employees in your office, you might want to spring for full commercial gear that keeps up with high demand and allows different drink combinations for multiple users simultaneously. Commercial gear also generally comes with warranties that provide peace of mind when making such a large purchase – not something necessarily available when buying items made primarily for home use!
Budget
When it comes to budgeting for an office coffee maker, you'll want to take into account a few different factors. Firstly, the cost of the machine itself – both upfront and ongoing fees for repairs, maintenance and replacements parts. You should also consider other costs such as the cost of coffee beans, water filters and cups. Finally, there may be additional costs associated with installation and set up if you choose to hire someone to do this work.
With all these elements in mind, there are several affordable options that can suit a variety of budgets depending on your specific needs. There are manual drip coffee makers which require you to use filters in order to brew a cup of coffee as well as automatic drip machines which can heat up quickly and dispense drinks at the push of a button. There are also single-cup machines that use premeasured pods but these can get expensive in comparison. It's important to consider how much coffee your office consumes when making a decision so that you don't end up with an overpriced or underpowered machine.
Space
Space, also known as cupboard space, is an important element to consider when selecting an office coffee maker. You need enough room to house and store the equipment safely in your office area. Make sure you measure the available space to ensure that your new machine fits comfortably in the designated area.
You will also need to consider how close it will be positioned to power outlets, as many coffee makers are quite large and require dedicated plugs or cords for operation. Additionally, some makers may require special accessories such as filters or jugs, so factor these into the decision-making process too, so you don't end up with insufficient space for everything you need.
III. Top Office Coffee Maker Brands and Models
Here we provide reviews of different coffee maker brands and models that could be good choices for you to choose from when it comes to stocking your office with a dependable, efficient machine that provides quality coffee.
Cuisinart DCC-3200: This 14-cup programmable coffeemaker is one of the most popular models from Cuisinart. It includes all the features any home or office would need: an automatic shutoff feature, brew-pause function and various adjustable settings for temperature control and auto on/off times so you can keep your favorite cup of coffee ready whenever you need it.

Hamilton Beach 49980A: This 2-way brewer is great for those who want to quickly switch between brewing single cups or entire carafes of coffee with ease. It has an auto shutoff feature that turns the machine off after two hours and its adjustable strength selector allows you to customize the strength of each cup to suit your needs.

Bunn MCU Single Cup Multi-Use Home Coffee Brewer: This single-serve coffee maker brews at up to 200°F, allowing each cup to retain its full flavor while still making sure each drink stays hot and fresh until served. Its 24oz drip tray can accommodate a variety of mug sizes, allowing more versatility on the type of vessel used depending on individual preference while its removable parts makes it easy to clean after every use.

KRUPS KM9008 Glass Carafe Programmable Coffee Maker: If a carafe model fits better in your office kitchen setup, then this Krups model should do just fine with its 10-cup glass carafe included in the package as well as other features such as preprogrammed settings for regular, strong and ice coffee plus a pause function when necessary so you don't miss any precious minutes during your break time!

Keurig

Keurig: Keurig makers are some of the most popular office coffee solutions out there. The streamlined setup makes it easy to prepare fresh, delicious coffee quickly and with minimal cleanup. There is a wide range of Keurig machines, each offering a different selection of features and capabilities. You can choose from traditional styles that sit on the counter or single-cup systems with all their components—including serving tray and brewer—built inside. Refillable pods are available for many models, giving you more options when selecting beans. Plus, all-in-one systems make life easier by managing knobs and buttons while adding convenience options like warmed milk or frothed milk depending on the type of machine chosen.
Bunn
When it comes to office coffee makers, Bunn is a popular and trusted brand for many businesses. As an industry leader in commercial coffee brewing technology, Bunn coffee makers boast efficient design and powerful performance. Whether you're looking for a small coffee maker for your break room or a larger model that can easily brew large batches of coffee throughout the day, Bunn offers several options to meet your needs.
Some of the most popular models include:
Velocity Brew 10 Cup Coffee Brewer – perfect for offices that need a few cups of coffee in the morning; this model brews quickly and efficiently.

AerobieAeroPress Coffee Maker – ideal for those offices that prefer tailored strength over bulk batches; this machine is perfect for preparing individual servings with ease.

Gourmet Sprayer -this handy high-pressure spray system produces consistent steamed milk with ease; great for those who prefer specialty drinks like lattes or cappuccinos.

Thermal Carafe Coffee Makers – designed to keep hot beverages at ideal temperatures during use; these carafes allow employees to enjoy fresh pots of coffee throughout the day.
Whether you choose one model or combine different machines, Bunn is sure to have an option that meets your needs and works within your budget. With careful selection and regular maintenance, these commercial grade units make it easy to ensure all employees get their much needed caffeine fix every day.
Conclusion
The right office coffee maker can be the difference between a productive and energized workday, and one that is sluggish and stagnant. A single-serve brewer is cost effective, modern, and efficient in accommodating individual tastes and preferences. Bean-to-cup machines offer superior taste with freshly-ground beans at the push of a button. Finally, an airpot brewer will provide several cups of flavorful blended brews that are kept hot all day.
Choose the one that meets your needs to ensure an alert and productive work environment for your employees!
FAQ'S
What is the importance of coffee to office workers?
Coffee is important to office workers as it helps them stay alert and focused throughout the workday. It is a popular drink that is known for its ability to boost energy levels, improve mental clarity, and increase productivity.
What is the benefits of coffee maker?
A coffee maker allows you to easily and quickly prepare coffee in the comfort of your own home or office. It saves time and money, and also allows you to customize your coffee to your personal taste preferences.
What is coffee culture in office?
Coffee culture in the office refers to the social and professional norms and behaviors associated with the consumption of coffee in the workplace. It includes rituals such as coffee breaks, coffee chats, and coffee meetings.
What is the effect of coffee on employees?
Coffee can have a positive effect on employees by increasing alertness, improving concentration and memory, and boosting mood and motivation. However, excessive consumption can lead to negative side effects such as anxiety and insomnia.
Does coffee make workers more productive?
Moderate consumption of coffee can make workers more productive by increasing energy levels and improving mental clarity. However, excessive consumption can lead to negative side effects such as jitteriness and anxiety.
Is office machine coffee good for health?
Office machine coffee can be good for health as it provides the same benefits as regular coffee, such as improved focus and productivity. However, it may contain added sugar or creamer, which can be unhealthy if consumed in excess.
What are the features of coffee maker?
Features of a coffee maker may include programmable brewing, adjustable brew strength, automatic shut-off, built-in grinder, and the ability to make multiple cups at once. Other features may include a built-in milk frother, a hot water dispenser, and a self-cleaning function.
What is good work culture in office?
A good work culture in the office is one that promotes collaboration, communication, and mutual respect among colleagues. It includes clear communication, recognition and reward programs, employee development and growth opportunities, and a healthy work-life balance.
How do I make my office feel like a coffee shop?
To make your office feel like a coffee shop, you can incorporate cozy seating areas, soft lighting, and calming music. You can also offer a variety of coffee options, such as drip coffee, espresso, and specialty drinks, as well as snacks and pastries.
What is the best office culture?
The best office culture is one that values and prioritizes employee well-being, fosters open communication, encourages innovation and creativity, and supports a diverse and inclusive workforce. It is one that encourages collaboration, teamwork, and mutual respect, and provides opportunities for professional development and growth.
See Also-